Museo Stibbert - Scuderie
Completamento delle scuderie al piano primo 1° lotto/Completion of the stables on the first floor, 1st lot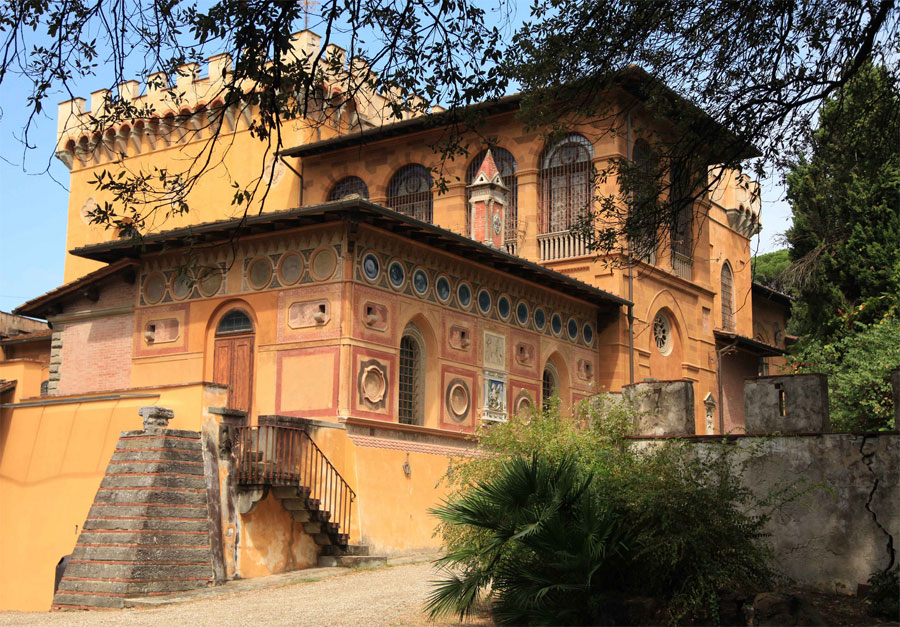 "Il museo è uno dei luoghi che danno l'idea più elevata dell'uomo".
André Malraux
Il Museo deve la sua esistenza a Frederick Stibbert (1838-1906). Proveniva da una famiglia di militari: il padre colonnello delle prestigiose Coldstream Guards, il nonno governatore generale del Bengala, India, da dove ebbe inizio la ricchezza della famiglia che il giovane Stibbert ereditò appena ventenne. Alla sua morte egli lasciò il Museo alla città di Firenze. Il Museo è ora gestito da una Fondazione, istituita per volontà testamentaria di Stibbert stesso. Le ex Scuderie, recentemente consolidate strutturalmente, necessitano di un intervento finale riguardante il restauro interno con la realizzazione di tutti i servizi (elettrico, idraulico, ascensore, climatizzazione, ecc.). L'immobile sarà poi così destinato ad uffici della fondazione Stibbert (biblioteca-sala conferenze e deposito).
The Museum owes its existence to Frederick Stibbert (1838-1906). He was born in a military family: his father was colonel in the prestigious Coldstream Guards, his grandfather governor general of Bengal, India, where the family wealth started and then was inherited by the young Stibbert at the age of twenty. At his death he left the Museum to the city of Florence. The Museum is now managed by a Foundation, established as a bequest of F. Stibbert. The former Stables, recently consolidated, require a final intervention to restore the interiors with the realization of all services (electric, hydraulic, lift, air conditioning, etc.). The property will be so used as offices for the Stibbert.
Valore dell'intervento/Value of intervention: € 600.000,00
Durata dei lavori/Time Line: 365 giorni/days
Tipologia dell'intervento: l'intervento in oggetto riguarda il completamento del restauro del fabbricato delle ex Scuderie, di recente consolidato strutturalmente. Con questo intervento, articolato in due lotti, ci si prefigge di completare il restauro interno con la realizzazione di tutti i servizi (elettrico, idraulico, ascensore, climatizzazione, ecc.) necessari a destinare l'immobile ad uffici della fondazione Stibbert, a biblioteca-sala conferenze e deposito.
Type of intervention: the intervention concerns the completion of the restoration of the former Stables, recently consolidated structurally. With this intervention, divided into two lots, it is intended to complete the interior restoration with the construction of all services (electrical, hydraulic, lift, air conditioning, etc.) required to allocate the property to the Stibbert Foundation offices, library- conference room and storage.
Attrattività: Alta. Il complesso architettonico è situato nella zona Nord – Est del comune di Firenze, sulle pendici collinari di Montughi lungo le omonime via Stibbert e Montughi. Al suo interno si trova il Museo Stibbert gestito dalla Fondazione istituita per volontà testamentaria di Stibbert stesso. Il Museo ospita una collezione di armi e armature, costumi, quadreria, arazzi, oggetti di arredo e di arte applicata. Attualmente l'intera collezione è costituita da oltre 36.000 numeri di inventario (per circa cinquantamila oggetti), per la maggior parte esposti, frutto del nucleo originale lasciato da Stibbert alla sua morte ma incrementato da vari doni e acquisti posteriori.
Attractiveness: High. The architectural complex is situated in the northeast part of Florence, on the hill slopes of Montughi along via Stibbert and Montughi.. Inside you can find the Museo Stibbert run by the Foundation established as a bequest of F.Stibbert . The Museum houses a collection of weapons and armours, costumes, paintings, tapestries, furniture and objects of applied art. At present the entire collection consists of more than 36,000 inventory numbers (approximately fifty thousand objects, mostly exhibited),which is the result of the original core left by Stibbert at his death but increased by various gifts and later purchases.
Notizie storico-artistiche: il complesso architettonico adibito a museo consta di un unico corpo di fabbrica articolato in sale e saloni, il cui fronte misura circa 150 metri; a nord di esso si trovano, isolate, le antiche scuderie e la limonaia ( edificata intorno al 1860 su progetto dell'arch. Giuseppe Poggi), a sud la "casetta svizzera" adibita a portineria. Il Parco, sul lato interno del fabbricato, opposto alla via pubblica, di circa due ettari, molto articolato e ornato da tempietti e giochi d'acqua, realizzato su progetto di Gerolamo Passeri, ingegnere topografo, collaboratore del Poggi, completa l'impianto generale del complesso voluto da Federico Stibbert. Il complesso architettonico così articolato ha la sua origine dalle villa Bombicci e villa Mezzeri, ex villa Davanzati.
Historical and artistic information: the architectural complex, used as a museum, consists of a single building divided into rooms and halls, whose front is about 150 meters. In the north, isolated from the rest, there are the old stables and the lemon house (built around 1860 and designed by Arch. Giuseppe Poggi),in the south, the "Swiss house" used as a concierge. The Park, located behind the building and opposite the public street, is about two acres. It is very articulated, adorned by small temples and fountains, and it completes the whole complex built by F. Stibbert. It was designed by Gerolamo Passeri, engineer surveyor and collaborator of Poggi. The so structured architectural complex has its origin from villa Bombicci and villa Mezzeri, former villa Davanzati.