Basilica di San Salvatore al Monte
opere di restauro degli intonaci parietali interni/Restoration and maintenance of interior plastered walls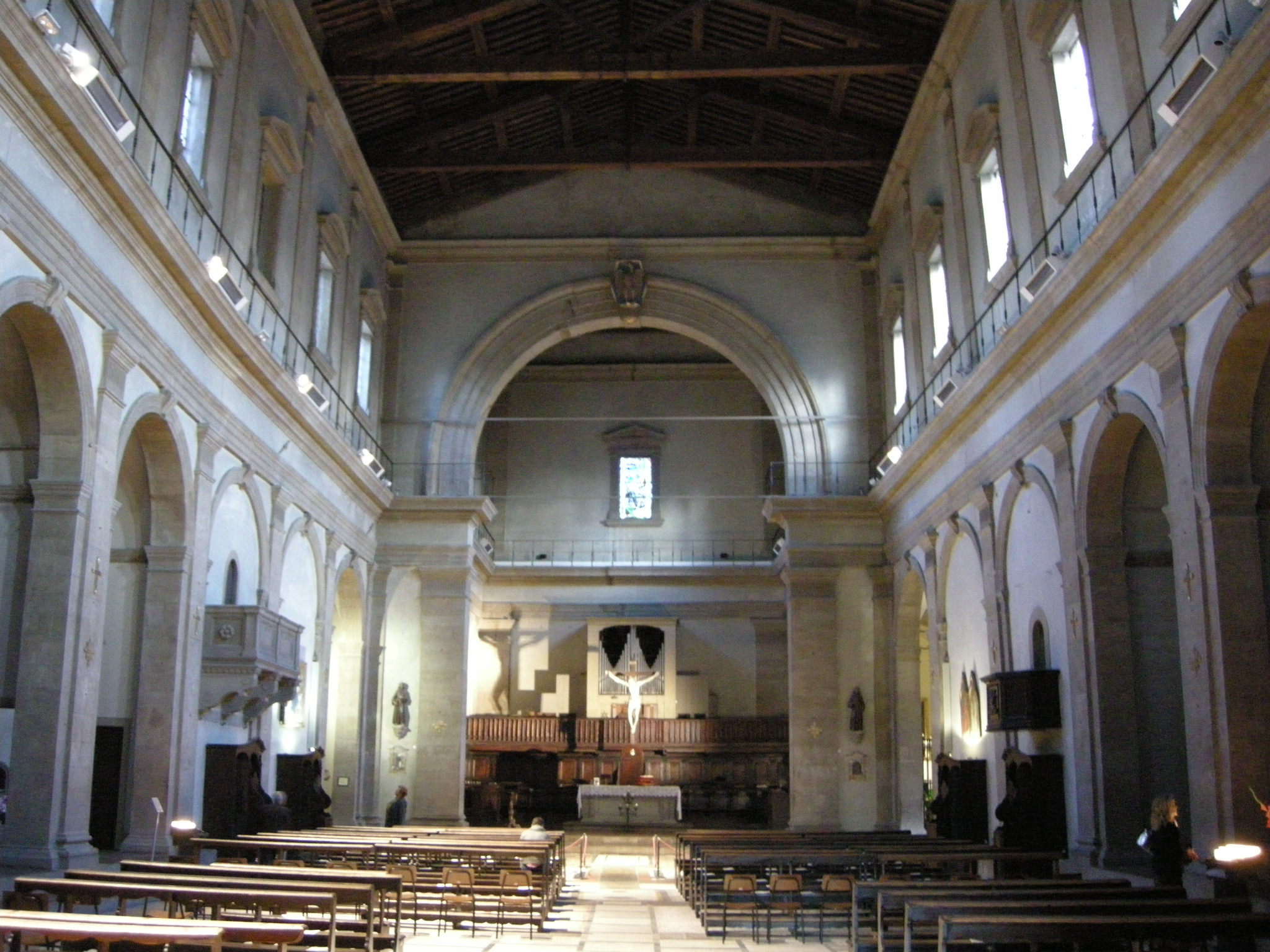 Sia detta a te, Firenze,questa amara devozione:
città colpita al cuore, straziata, non uccisa;
unanime nell'ira, siilo nella preghiera.
Mario Luzi
La basilica è situata sulla collina dietro il piazzale Michelangelo, detta il Monte delle Croci. La facciata della chiesa, molto semplice e incorniciata dai tipici cipressi toscani, presenta superfici intonacate interrotte solo dal portale e dalle finestre a timpano. All'interno, la bicromia dell'intonaco e della pietra forte rende più marcati gli elementi architettonici con una sobrietà in linea con i dettami francescani di povertà e semplicità.
The basilica is located on the hill behind Piazzale Michelangelo, the so called Hill of Crosses. The facade of the church, very simple and framed by the typical Tuscan cypress trees, shows plastered surfaces interrupted only by the portal and the gable windows. Inside, the two-color plaster and "pietraforte" reinforce the architectural elements with a sobriety in accordance with the Franciscan rule of poverty and simplicity. on the hill.
Valore dell'intervento/Value of intervention: € 50.000,00
Durata dei lavori/Time Line: 120 giorni/days
Tipologia dell'intervento: i lavori in oggetto riguardano l'esecuzione delle opere di ripristino cromatico degli intonaci parietali interni alla basilica. L'intervento da realizzare prevede essenzialmente due lavorazioni: allestimento piccolo cantiere all'interno della basilica ed esecuzione del ripristino cromatico di tutti gli intonaci delle pareti interne mediante stuccatura, scartatura e tinteggiatura con tre mani di pittura a calce.
Type of intervention:The works concern the chromatic restoration of the plastered walls inside the basilica. The project to be implemented consists of two basic processes: set-up of a small construction site inside the basilica and chromatic restoration of all interior plastered walls by stucco-works, paint removing and painting with a three-coat lime paint.

Attrattività: alta
High:high.
Notizie storico-artistiche: a partire dall'assedio del1529, e per tutto il secolo XVI, la chiesa e il convento subirono gravi danni, solo in parte arginati da restauri, tanto che nel 1665 i frati lasciarono definitivamente San Salvatore, in stato di avanzata decadenza, ai francescani spagnoli detti Scalzetti, e si trasferirono in Ognissanti, portando con sé molti degli arredi e decorazioni. Recentemente la Provincia Toscana dei Frati Minori ha deciso di potenziare la sua presenza a San Salvatore destinando a questo convento una fraternità impegnata primariamente nell'evangelizzazione, una scelta in continuità con la storia e la spiritualità del luogo.
Historical and artistic information: Starting from the siege of 1529, and throughout the sixteenth century, the church and the convent suffered severe damages, only partially recovered by the restoration; in 1665 the friars definitively left San Salvatore, in a severe state of deterioration, to the Spanish Franciscans so called Scalzetti and moved to Ognissanti, bringing with them many of the furnishings and decorations. Recently, the Tuscan Province of Minor Friars has decided to strengthen its presence in San Salvatore assigning this convent to a fraternity primarily engaged in evangelism, a choice in continuity with the history and the spirituality of the place