Monumento a Daniele Manin
Restauro del monumento a Daniele Manin nel Piazzale Galileo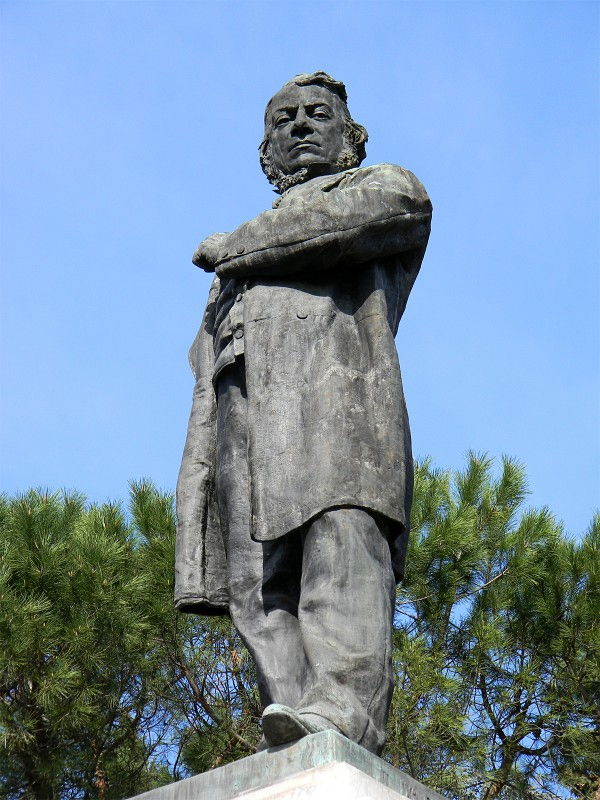 "Tutto passa; solo l'arte robusta è eterna".
Théophile Gautier
Il Monumento a Danile Manin si trova sul Viale Galileo sulle colline Fiorentine. Veneziano di nascita è stato uno dei patriottici e politici italiani, mori' a Parigi nel 1857. Il patriota è presentato nell'atto di proclamare all'assemblea del Consiglio di Venezia la ferma volontà di resistere ad ogni costo all'ultimatum di resa posto dall'esercito austriaco, e questo in riferimento al ruolo avuto da Manin quale
presidente della Repubblica di San Marco durante la sua breve vita e alla coraggiosa posizione da lui assunta nel corso dell'assedio della città da parte degli austriaci nel 1848-1849. Nella mano destra tesa lungo la redingote stringe con disprezzo i patti della resa rassegnati dal maresciallo Haynau, mentre la mano destra si stringe a pungo chiuso come gesto di rifiuto alle condizioni imposte. La scultura è posta su un basamento di marmo di Carrara recante sui quattro lati iscrizioni commemorative.
The monument to Daniele Manin is located in viale Galileo, on the Florentine hills. Born in Venice, one of the Italian patriots and politicians, he died in Paris in 1857. The Patriot is presented in the act of proclaiming to the assembly of the Council of Venice the firm will to resist strongly to the ultimatum to surrender by the Austrian army. This in reference to the role played by Manin as President of the Republic of San Marco during his short life and the courageous position taken in the course of the siege of the city by the Austrians in 1848-1849. In his right hand, stretched along the frock coat, he clutches with contempt the pacts of surrender signed by marshal Haynau , while the right hand is a clenched fist like a gesture of refusal to the imposed conditions. The sculpture is placed on a Carrara marble base with memorial inscriptions on all four sides.
Valore dell'intervento/Value of intervention: € 20.000,00
Durata dei lavori/Time Line: 120 giorni/days
Tipologia dell'intervento: pulitura delle superfici bronzee, marmoree, lapidee, ed eventuali consolidamenti e protezione finale.
Type of intervention: cleaning of the bronze, marble and stone surfaces, possible consolidations and final protection.
Attrattività: Elevata. Situata lungo il percorso del Viale dei Colli, splendida passeggiata panoramica collinare nell'Oltrarno, gode di buona visibilità sia per i flussi turistici che per il traffico veicolare ed è prospiciente l'ingresso di uno degli hotel più esclusivi della città.
Attractiveness: High. Situated along the route of Viale dei Colli, a beautiful scenic hilly walk in the Oltrarno, it enjoys good visibility for both tourism and vehicular traffic and it faces the entrance of one of the most exclusive hotels in the city.
Notizie storico-artistiche: nel 1862 i cittadini veneti che dopo la riconquista di Venezia da parte degli austriaci (1859) si trovavano esuli a Firenze, pensarono di erigere un monumento al loro compatriota Daniele Manin (1804-1857), come tangibile segno di riconoscenza alla città che li aveva ospitati e doveroso omaggio al patriota, figura di spicco del risorgimento italiano. Con la liberazione di Venezia nel 1866 il progetto fu sospeso ma non dimenticato, e ripreso a vent'anni di distanza grazie a un nuovo comitato di veneti residenti a Firenze. Dopo aver espletato in tempi brevi il concorso per aggiudicare il lavoro (1888), la statua fu commissionata allo scultore veneziano Urbano Nono, che la realizzò entro il 1889, anno nel quale fu fusa nello stabilimento Micheli di Venezia. Spedita a Firenze agli inizi dell'anno successivo, dopo un attento collaudo svolto dallo scultore Soranzo e dal direttore della Regia Accademia delle belle arti di Venezia Luigi Ferrari, la statua fu fornita di un adeguato basamento e inaugurata nel corso di una solenne cerimonia il 9 febbraio 1890, collocata al centro della piazza d'Ognissanti, che allora, e già dal 1860, era intitolata allo stesso Daniele Manin. Nel 1931 il monumento fu poi trasferito su richiesta dell'architetto Alfredo Lenzi dell'Ufficio di Belle Arti del Comune di Firenze da un lato del piazzale Galileo, con la motivazione che limitava la godibilità delle antiche architetture.
Historical and artistic information: in 1862 the Venetians, who after the reconquer of Venice by the Austrians (1859), were exiles in Florence, decided to build a monument to their compatriot Daniele Manin (1804-1857), as a tangible sign of gratitude to the city that had hosted them and a due tribute to the patriot, a prominent figure of the Italian Risorgimento. With the liberation of Venice in 1866, the project was suspended but not forgotten, and it was resumed twenty years later, thanks to a new committee of Venetians living in Florence. Having completed quickly the competition to award the work (1888), the statue was commissioned to the Venetian sculptor Urbano Nono, who built it in 1889, the year in which it was cast in Micheli plant in Venice. Sent to Florence at the beginning of the following year, after careful testing done by the sculptor Soranzo and the director of the Regia Accademia delle Belle Arti (Royal Academy of Fine Arts) in Venice, Luigi Ferrari, the statue was provided with a suitable base and inaugurated during a solemn ceremony on 9th February 1890, placed at the centre of piazza Ognissanti, which since 1860, was entitled to Daniele Manin. In 1931 the monument was then moved, at request of architect Alfredo Lenzi of the Ufficio di Belle Arti of the Municipality of Florence, to one side of piazzale Galileo, because it limited the enjoyment of the ancient architectures.